Roof and floor insulation kits
Our roof and floor insulation kits are made for quick and easy self-assembly. The kit includes all necessary parts and fasteners for the insulating the floor and roof. The roof insulation must then be covered with roof shingles, roofing felt or something similar.
An insulated floor and roof will significantly improve the thermal performance of a house, great for use in colder winter months.
Our insulation boards are specially designed to prevent thermal bridges. They have a film cladding with a low emission level, which has good thermal insulation in air cavities. This ensures reliable thermal insulation and the saving of thermal energy.
Roof insulation
The kit for roof insulation consists of 30mm thick insulation boards, OSB sheets and screws. Lay the insulation boards on the roof boards. Start at the lower end of the roof and cut the last board into size. Place the insulation boards tightly together. Then place the OSB sheets on the insulation boards, cut the last sheets into size and screw them into the roof boards in all four corners and in the middle of each sheet. Then cover the roof with roofing material.
Roof boards
Insulation boards
OSB plates
Roof shingles / roofing felt
Floor insulation
The floor insulation kit includes wooden laths, screws and insulation boards. Wooden laths support the insulation boards and ensure a uniform level under the floor boards. First, screw the laths into the foundation beams, then cut the insulation boards so that they lie tightly between the foundation beams, and finally lay the floor boards.
Insulating the floor and roof of a 20 square metre building costs 800 to 1100 Euro. All work should be carried out within 4-5 hours. In our opinion, it is a valuable investment in the long run for thermal resistance and longevity of your garden house, garden office or a holiday home.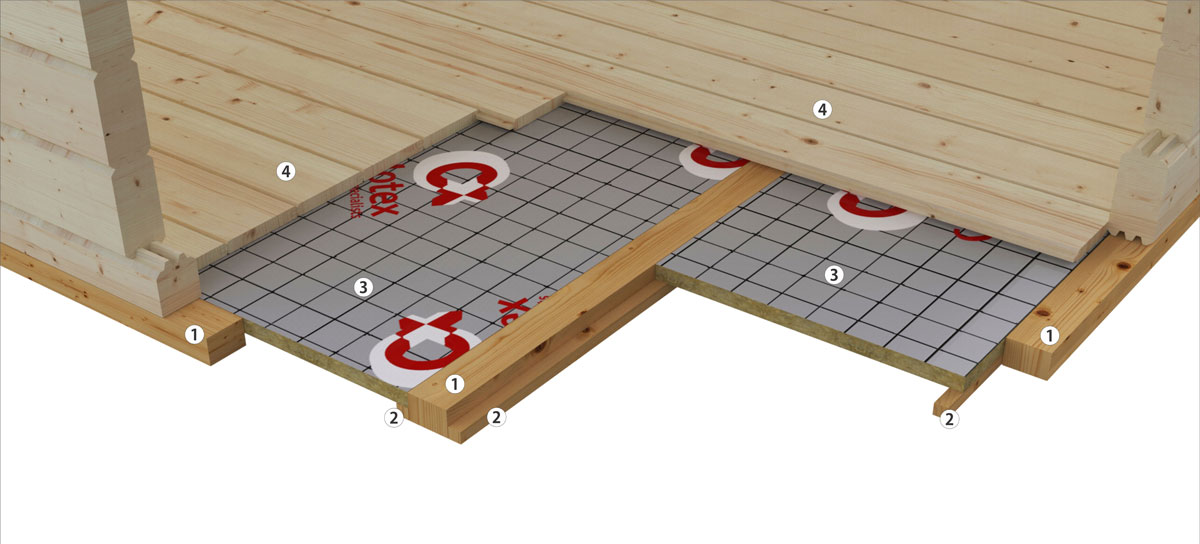 Foundation beams
Wooden laths
Insulation boards
Floorboards