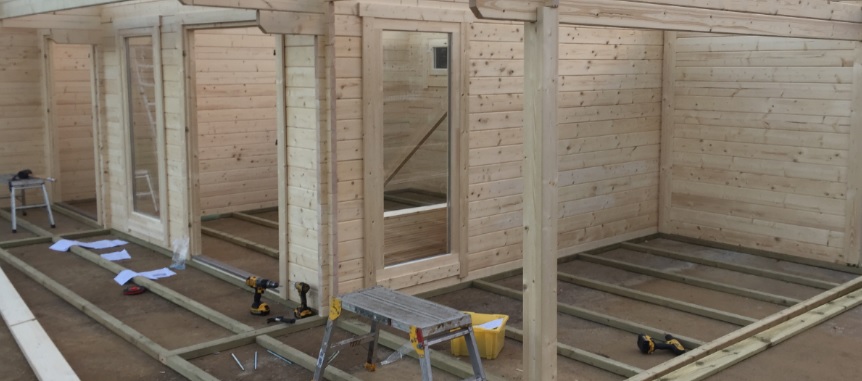 Who we are and what we do
Casetas De Jardin 24 online shop is a member of Hansa24 Group Ltd. We are an international company that designs, produces, sells, and delivers log cabins to countries including: the UK, Spain, Portugal, Germany, Austria, Sweden, Switzerland, Ireland, New Zealand and other countries. Most of our summer houses can be recognised by their unique Hansa24 design and modern look. We strive hard to design beautiful but practical log cabins while still keeping them simple and affordable. We are on hand seven days a week, with a friendly Malaga and UK based customer service team to answer any questions you may have.
To offer the best possible quality and great prices to our customers, we run our production unit in Estonia. Our Garden Buildings and Log Cabins are made from sustainably sourced slow-grown Nordic spruce. We then use the latest wood processing technologies to create your quality product. It is no wonder that Estonia, a tiny country, is the biggest log cabin producer in Europe. Most of our cabins can be assembled by a DIY enthusiast. However, those who prefer spending their free time doing something else, can hire our professional team to erect their cabin within a day or two, depending on the size.
All our products are securely and waterproof packed and so can remain packed for a short period until you are ready for it to be assembled. Deliveries to most parts of southern Spain are free of charge.
Why Choose Us?
Hansa24 has grown to become a recognized organization in Europe, built on a foundation of hard work and dedication. Our honesty, integrity, and upfront approach have allowed us to become who we are today. Those values will continue to guide us into the future. We provide customers with unbeatable pricing, secure online ordering, and impeccable customer service.
There are no hidden extras. All our standard products come with strong walls, floor boards, installation instructions. Everything you need to build your log cabin.
All our garden buildings come with a 5-year guarantee. Our terms and conditions are strictly in compliance with e-commerce law. This means that our platform is 100% secure and reliable for the purchase of your log cabin. We are proud to say that our reputation is second to none and hope that you give us the opportunity to satisfy you too!
Casetas De Jardin 24  is probably the best platform in Spain for the purchase of high quality garden buildings and residential log cabins at very competitive prices.
Casetas De Jardin 24 is official partner of Hansa Garden Ltd UK and part of the content on this site originates from https://summerhouse24.co.uk/
Our Partners
Hansagarten24
Gartenhaus kaufen.
Attefallshuset24
Timmerstuga, attefallshus, förråd, grillhus, bastuhus – Sverige
Vierasmaja
Vierasmajat, Kesämökit, Pihamökit, Piharakennukset, Pihavarastot, Pihasaunat, Autotallit
Aiamaja24
Aiamajad, Aiakuurid, Saunamajad, Puidust Garaažid
Summerhouse24
Log cabins, garden summer houses, wooden storage sheds, BBQ huts, sauna cabins and gazebos in the UK.
Zahradny Domcek
Zrubové záhradné domčeky, chaty, drevené dielne a kôlne, grilovacie altánky, saunovacie domčeky a celoročné altánky na Slovensku